Fire Resistant Filing Cabinets
Our range of fire resistant filing cabinets and fire resistant storage safes are certified; UL tested and SP tested so you can rest assured that sensitive files and important documents are highly protected.
For businesses storing important documents and for residential properties located near regional areas that risk fire attack, a fire rated filing cabinet is a sound investment. When selecting the right product for your needs be mindful that there are no Fire Proof Filing Cabinets, they are fire resistant and offer protection against heat and fire for specific time periods.
Certified & Tested for Fire Resistance
Platinum's fire resistant filing cabinet and fire resistant storage safe have fully insulated bodies and doors with fire resistant materials and compounds. They are asbestos tested and checked. Not only are they built for fire they feature quality locking mechanisms to prevent attack.
Fire Resistant Filing Cabinets and storage safes can be delivered Australia-wide to all capital cities and regional locations. Find a Distributor

The Fire Guard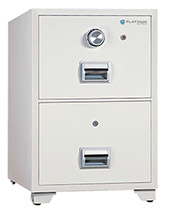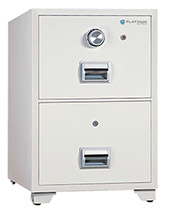 Bond 7 with filing cabinet