How to choose the perfect home safe for our needs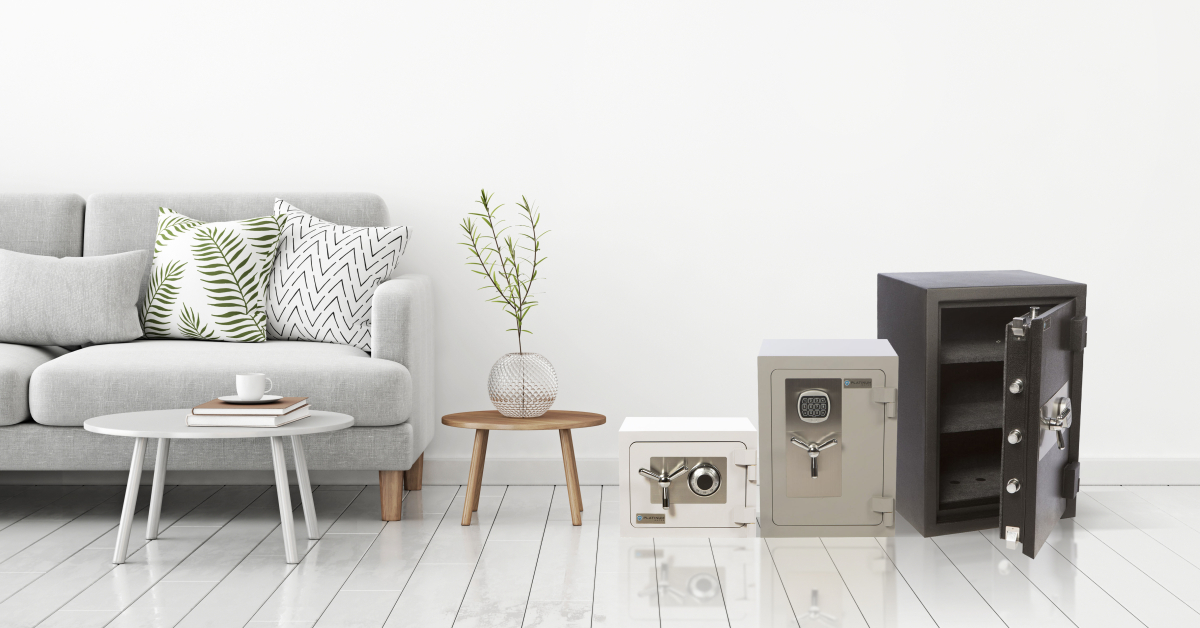 When you are looking to buy a safe that will be suitable for your individual needs there are many things to consider. It is a long term investment so you want to select a home safe that will meet all your requirements.
Once you begin researching and shopping around you will soon discover that there are many variants of homes safes ranging from weight, features, price points, locking mechanisms and sizes. However, the most important elements to consider is the quality of the safe and the level of protection the safe will provide.
An effective way to determine the best home safe is to answer these questions….
Is the main objective of the safe to protect against fire or theft?
If the main purpose is to protect against burglary then a theft resistant safe is what you need. Theft resistant safes are rated on their level of security and can vary from a cash rating of $5,000 up to $100,000 and above.
If you live in an environment where fire is a threat then you will require a fire resistant safe. Fire Safes are designed to protect documents and papers against extreme heat and fire. Fire rated home safes come with varying levels of fire protection from 30mins, 1 hour, 1 ½ hours to 2 hours. They generally have little theft resistance (unless they offer a cash rating as well).
If the purpose of the safe is to protect against both theft and fire, then a high quality safe with both levels of protection is the home security safe to meet your needs. All safes within Platinum Safes Home Safe range offer both fire ratings and cash ratings. If your goal is to protect your valuable belongings then invest a quality safe you can trust.
View the Platinum Home Safe Range Here

What items are you storing in the safe?
If your main objective is to protect valuable items such as cash, jewellery and devices you need a theft resistive safe. Important paper documents such as records and wills should be stored in a paper fire resistant safe. The purpose of a home safe is generally to protect all types of items from valuable possessions such as jewellery, watches and cash as well as important paper documents such as passports and certificates. When this is the case a hybrid security safe that protects against theft and fire is what you require.
Platinum Safes have three Home Safes within their range that protect again forced entry and protect against extreme heat and fire.
What level of Protection do you need?

The value and importance of the items you are protecting in your security home safe will determine the degree of protection you need. If you are protecting $25,000 worth of jewellery and watches then the Platinum Director would be a great choice.
It is advisable to contact your insurance company to obtain specific information about your home insurance policy. They will inform you on the safe ratings that are required to provide you coverage and to lower your insurance premiums.
If you live in a fire prone location, it is advisable to select home safes that offers fire protection.
Platinum Safes Home Collection offers both high quality and value. Don't risk safe guarding your valuables and assets in an inferior safe purchased from a hardware store or a cheap online merchant. Your prised possessions are worth much more care.
The Platinum Director provides maximum security with unique corner locking mechanism, inter-locking bolts and an automatic re-locking device for superior protection. This high quality safe offers 1 hour fire rating and a $30,000 cash rating.
The Platinum Urban offers premium protection against theft with a $25,000 cash rating and a 30 minute fire rating. The Urban Home Safe is a very popular model and is ideal for securing cash, jewellery, personal files such as passports and certificates as well as digital cameras and laptops.
The Platinum Nova Home Safe is another hybrid safe in the residential safe range offering theft protection with a cash rating of $15,000 and fire protection with a 30 minutes fire rating. The Nova excels in quality and value. It's stylish design elements and innovative locking mechanisms make this safe a smart choice.
What size and capacity do you require?

The items you are storing in the home safe will dictate the required size you need. It is advisable to allow at least 40% more capacity space to allow for future items you will need to protect in years to come.
Platinum Safes' are known for their extensive range of model sizes. The Platinum Nova and Urban is available in 7 sizes and the Platinum Director in 5 sizes.
Where will the Safe be located?
The area of the safes final placement will play a factor in the size. The flooring type also needs to be considered, can it support the weight of the safe? If the safe is to be located on an upper or lower level can the safe be moved to this location safely.
The installation is a very important factor to secure your security safe. All Platinum Home Safes have anchor points so they can be bolted down to floors. It is highly encouraged to professionally install your safe for maximum protection.
In-floor Home Safes
Floor safes are another great option for home security. A floor safe can be well hidden and difficult to locate in concealed locations. An in-floor safe can be cemented or bolted down into a lowered area that is out of site. This reduces the risk of being located and attacked.
Platinum Safes have four home floor safe options that feature superior security features such as anti-drill plates, solid steel dead bars, relocking devices and a top cover plate. The best floor safe for you depends on the size you need to secure your valuable and important documents against theft and damage and the security features. A key factor is ensuring in-floor safes are correctly installed and covered. All Platinum Floor Safes come with a secure cover top plate.
View the Platinum Floor Safe Range Here
A home safe is a long term investment so ensure you choose the perfect safe that will meet your needs for many years to come. When you're in the market to buy a home safe the best starting point is to answer the above questions.
Platinum Safes Customer Service Centre can provide you with professional advise by calling 1800 732 630 or emailing sales@platinumsafes.com.au
Over 100 distributors sell Platinum Safes throughout Australia. Find your nearest stockist here