What is a TDR Safe?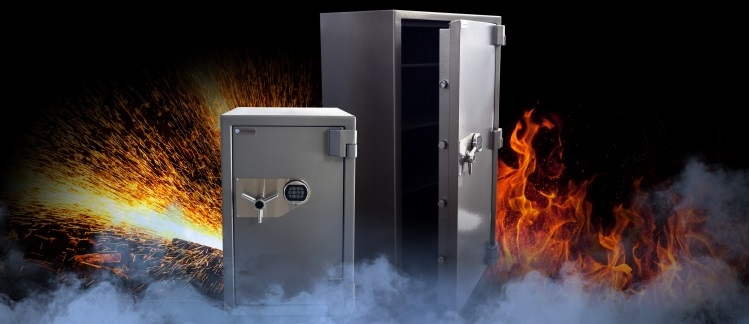 TDR is short for the acronym Torch and Drill Resistant. TDR Safes are very high in security and used by banks, jewellers, government agencies and commercial applications where a high level of security is required.
Classifications are used to describe the security level with cash rating leading up to $250,000. Further security measures applied can increase the cash rating when insurance company conditions are met.
TDR safes are designed, manufactured and constructed with high defensive strength barrier materials. Advanced technology applied by safes engineers make theses safes extremely hard to crack.
The design of TDR safes, and materials used, provide defensive barriers resisting to; Oxy-Acetylene attack, Drills and Abrasive Grinders, Explosives and Force; Pneumatic and Hydraulic Tools.
Torch and Drill Resistant Safes are also ideal in retail applications where large cash deposits are made. These safes are also used in residential settings to protect high valued jewelry and cash when additional security levels are required.
The Bond by Platinum Safes is EURO Grade 1 Certified for Theft & Fire protection. This TDR Safe has an SS EN Cash Rating of $45,000 an unsupported environment and SP NT Fire Ratings for 1 hour.
The extensive Bond range of 6 models starts at an external height of 685mm and weighing 283 kgs, up to the largest model the BO7 at the height of 1505mm and weighing 900kgs.
The heavy duty construction and superior security features of the Bond include;
Premium Security SS-EN1143-1 : 2012 GRADE 1

1 hour fire protection SP NT-Fire 017 60P

Certified. $45,000 Cash Rating

Heavy duty construction TDR Safe (Torch & Drill Resistant)

50mm thick door and 80mm thick body

Reinforced composite body with concrete and steel mesh

Independent glass re-locking device

3 stationary locking bolts on hinge side to deter prying attacks on hinges

Heavy duty steel hinge & chrome-plated vault handle

Pre-drilled anchor hole x 2

Hardened anti drill plates

Kaba Digital, S&G Combination or Mauer Key Locks
Call Platinum Safes on 1800 732 630 or visit www.platinumsafes.com.au view the extensive range of the Bond.